Bizzarioware
Bizzarioware 'Season 0XR' update will be available 03/18/2020!
---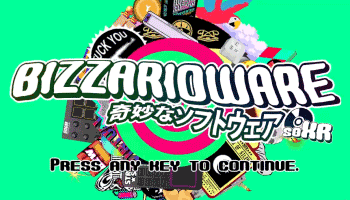 Finally - another Bizzarioware update!
Season 0XR is coming on 03/18/2020 with the following updates:
Play Bizzarioware online via Parsec integration.
More bug fixes and controller support updates.
Several general bug fixes.
2 brand new microgames!
Various components reworked and refactored for stability.
Specific patch notes to come as we get closer to release.
Also - feel free to follow us on Instagram, Twitter and Patreon. Join or Discord and check out our website for upcoming content and new projects!
P.S: Checkout our new multiplayer game - Underworld! Underworld will be receiving its first update on 03/18/2020 as well. You will also be able to play Underworld online via Parsec!