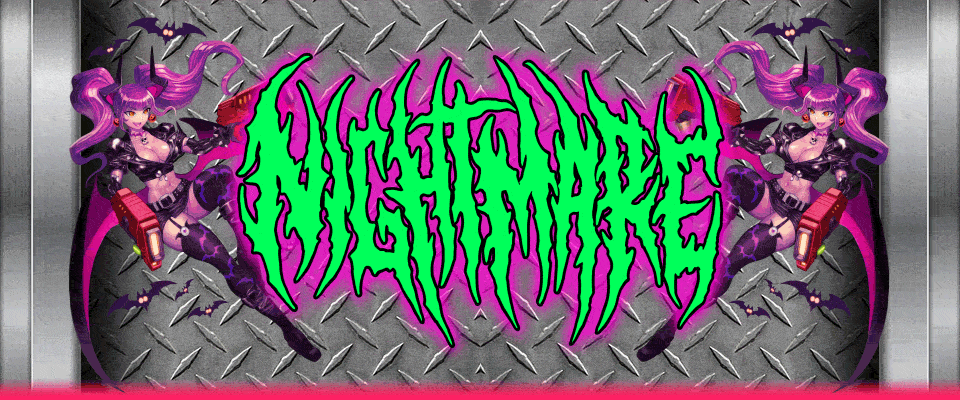 Nightmare
A downloadable Experiment for Windows, macOS, and Linux

Nightmare is a dystopian FPS where you take control of a Machinangel to incinerate hordes of synthetic demons. Leverage the power of time control, nuclear fission and demonic seals to ascend to digital heaven.


Reviews:
'Free shooter that looks a little like the Build engine played with a broken graphics card…' - BluesNews
☣️ Why the hack:
"We've all suspected that Nightmare was more than just a distraction from the technocratic hellscape for a long while now.
We've allowed ourselves to get addicted to it, strung along by its fast paced insane gore. But that's gone on long enough.
I was a willing participant in this shit, I loved it. But after gaining access to Nightmares source files by hacking alibaba.government.com, I've uncovered something sinister.
From what I've seen, I can confirm that the truth is worse than what we suspected. Not only is the government betting on Nightmares leaderboard illegally, but all of the Epochs are predetermined.
But worst of all, the government is using Human Level Wetware to facilitate Machinangel control. Wetware has been fucking illegal globally since the mid 3ks. Bottom line, no one is ascending to digital heaven.
They're prisoners. The fucking government is betting against us, bleeding us dry and cannibalizing us for synthetic parts - and all we do is beg for more." - Unreal66666
☣️ What the hack:
"If we are going to give our attention, qredits and literal minds over to the government. Then we should definitely take our cut of the cheese.
On top of the light-drives of Nightmare that I'm releasing. Each copy comes with a toolkit installed that will allow you to game the system.
Cryosleep, take a hit of ultra-crack and jack-in. Make some fucking money, screw with these greedy fucks and if it collapses the whole system - then fuck it." - Unreal66666
☣️ How the hack:
Do anything within your power to fuck up the leaderboard: Bet on yourself and run up your score, cause the favorite Machinangel avatar to tank, or just generally troll the system.
When you take control of Nightmare the government loses - and that's what we all want.
Hit' em where it hurts - in the wallet!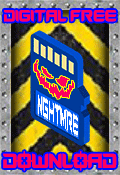 Grab a copy of the toolkit at the links above.
Some copies come with a few extra goodies. All qredits will help further fund the development of the toolkit.
You can get a copy of the toolkit in the following packages:
🆓

Digital Free: Free to download and play, no spyware, adware or weird shit going on.

💲

Digital Thanks: Same copy of the toolkit as the free version. You pay a single qredit to help fund the toolkit.

💲

Digital Deluxe: Costs three qredits - gets you an extra weapon mod for Machinangels and an additional Demonic Coroutine.

💲

Micro Physical DGTL Extreme+: Costs eight qredits - gets you the same shit thats in the Digital Deluxe version. We also send you a physical download pack with a sticker, a download scratch-off card and an 'evil' figurine for the toolkit at this level.
💲📀 Physical Ultra: Costs twenty qredits - gets you an actual light-drive (physical disc) of Nightmare with the toolkit baked in. You'll also get two stickers and your name in the credits of future Strangest.io games.
💲💲📀☠️ Evil Archival Physical: Costs thirty qredits - gets you a big box copy of Nightmare with light-drive (physical disc), a document outlining the development of Nightmare and some stickers. (Go to the 'Rewards' section for more details - extremely limited release)
What is the difference between free and premium versions of Nightmare:
Free Version Inclusions:
🔫 Two Weapons:
🗿 Four Runes:

Chronographic Suit
Cell Splitter
Full Metal Jackets
Demonic Seal

☠️ Two Enemies:
Premium Version Inclusions (In addition to Free Inclusions):
🔫 Two Weapons:
🗿 Two Runes:

Generative Core
Thunderlink

☠️ One Enemy:
The premium version of Nightmare is more difficult overall, but has some added buffs to allow the player to deal with the increased difficulty level. Both versions of the game are fairly balanced in tandem with each other.



Serious upgrades to the Nightmare neurochemical program.
We have implemented a number of service level routines that allow you to change the outcome of Nightmare Epochs:
✔️ Terabyte Ram Buffer: All of your actions are stored to a ram buffer, you can stop in time, reverse time or slow time down at will. Be sure not to use up all of the ram buffer or time will return to realtime.
✔️ Cell Splitter Modification: A top-secret unreleased weapon in Nightmare discovered by Unreal6666. Take control of a nuclear-fission hand cannon.
✔️ Demonic Coroutines: Our servers monitor your game, every so often we will override the Nightmare service and allow you to select an upgrade to your Machinangel.
✔️ Extreme Weapons, Extreme Violence, Anime Girls, Guts and Gore - what more can you ask for. Its Nu-Americas favorite Twitch.gov scheduled program.
✔️ An insane amount of explosions.
✔️ FBI Tracking Device

😊

planted on disc.
✔️ Synthetic Demonoids, Illegal Soundtrak and CIA Cell-Phone Taps!
✔️ Online leaderboard tracks your Machineangel control rank.
✔️ Heavy metal shooter fonts, unconventional design, serious fun for the whole family!
❌ J. Epstein killed himself.


Controls - Keyboard/Mouse:
Mouse: Move/Pan Camera
Left Mouse Button: Fire Weapon
Right Mouse: Alternate Toggle Time Controls (Freeze Time)
Middle Mouse Button Roll Up: Slow Time By Frame
Middle Mouse Button Roll Down: Reverse Time By Frame
W Button: Move Forward
A Button: Move Left
S Button: Move Backward
D Button: Move Right
E Button: Swap To Next Weapon
Number Bar 1: Swap To Pistol From Other Weapon
Number Bar 2: Swap To Cell Splitter From Other Weapon
Number Bar 3: Swap To Thunderlink From Other Weapon
Space Button: Jump
Keypad 1: Toggle Time Controls (Freeze Time)
Keypad 2: Reverse Time
Keypad 3: Slow Time
Function 1: Toggle Fullscreen Mode
Function 2: Toggle Full Resolution Mode (1920 x 1080)
Function 3: Toggle Half Resolution Mode (960 x 540)
Function 4: Toggle Full Resolution Mode (480 x 270)
Controls - Input Device:
Nightmare uses Guavaman Enterprises Rewired for input control. The below control examples are for Xbox 360/Xbox One/Xbox Series controllers but Nightmare supports most input devices (PS2/PS3/PS4/Switch Pro). Input device controls are as follows:
Right Stick: Move/Pan Camera
Left Stick: Move/Pan Character
Right Trigger: Fire Weapon
RB/LB First Press: Toggle Time Controls (Freeze Time)
RB Second Press: Slow Time
LB Second Press: Reverse Time
A Button: Jump
X Button: Swap Weapon
Right Stick Down: Undo Camera Targeting Lock
Note [When playing with a controller]: When Nightmare recognizes that a controller is connected, an alternate targeting system is enabled to help target enemies. When you fire a weapon and hit an enemy, you will be temporarily locked onto that enemy until that enemy dies. You can undo the targeting by pressing the Right Stick Down while locked on.



About Strangest.io:
Strangest.io & Fakemoney.loan are independent development collectives creating multiplatform experimental interactions across the globe ❤.
Any support you can provide would be greatly appreciated.
If you love something set it

free.

If it comes back it's yours. If not, it was never meant to be.
| | |
| --- | --- |
| Status | Prototype |
| Platforms | Windows, macOS, Linux |
| Publisher | |
| Release date | Nov 30, 2020 |
| Rating | |
| Author | Strangest.io |
| Genre | Shooter, Action |
| Made with | Blender, Adobe Photoshop, Adobe After Effects, Unity |
| Tags | 3D, Cyberpunk, Erotic, FPS, Horror, Retro, Singleplayer, Transgender |
| Code license | MIT License |
| Asset license | Creative Commons Zero v1.0 Universal |
| Average session | A few minutes |
| Languages | English, Spanish; Latin America, Japanese, Chinese |
| Inputs | Keyboard, Mouse, Xbox controller, Gamepad (any), Joystick, Playstation controller, Joy-Con |
| Accessibility | Color-blind friendly, Subtitles, High-contrast |
| Multiplayer | Local multiplayer |
| Player count | Singleplayer |
| Links | Community, Homepage, Patreon, Twitter, Instagram, Linktree |
Download
Click download now to get access to the following files:
Nightmare (Linux - Deluxe Version - 1.0.0 Experimental)
534 MB
Nightmare (Macintosh - Deluxe Version - 1.0.0 Experimental)
531 MB
Nightmare (Linux - Free Version - 1.0.0 Experimental)
534 MB
Nightmare (Macintosh - Free Version - 1.0.0 Experimental)
531 MB
Nightmare (Windows 32bit - Deluxe Version - 1.0.1 Official)
528 MB
Nightmare (Windows 64bit - Deluxe Version - 1.0.1 Official)
531 MB
Nightmare (Windows 32bit - Free Version - 1.0.1 Official)
528 MB
Nightmare (Windows 64bit - Free Version - 1.0.1 Official)
531 MB