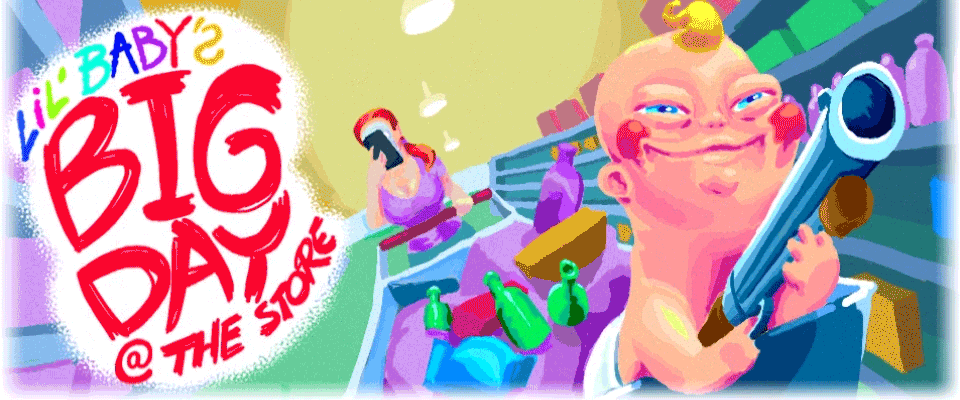 Little Baby's Big Day At The Store (7DFPS Jam Version)
A downloadable Experiment for Windows, macOS, and Linux

Little Baby's Big Day At The Store is a violent collectathon rail-shooter than takes place in a strange supermarket. Made completely from scratch in just 10 days for #7DFPS!

Little Baby's Big Day at the Store is an on-rails-shooter where you control a baby in a shopping cart, grabbing products off the shelf before the store closes. For shoppers that get in your way and slow your progress, you have your mom's shotgun, but watch out for the store manager, Kyle.

Based on a true story, Little Baby's Big Day at the Store follows a child's journey through the narrow and chaotic rows of Schlutz Family Market, a local grocery store, desperately seizing vital nourishment. The indifference of the child's mother, a prisoner to endless doom-scrolling and idle chitchat, is but one of many hurdles in the child's mission to navigate the world of delicious sugary treats and repugnant vegetables. With the only tools available to him, a stretchy sticky hand and his trusty shotgun, the baby blazes and blasts through the aisles. Can he fill his basket before the lighting of the closing sign? Can he avoid ejection from the manager in the wake of his destruction? Press that download button to find out.
🧮

Advanced Baby Physics Engine: Watch the product models react accurately to stretchy hand stimulus!

💁‍♀️

As your government-licensed MILF pushes you through the store, grab items from the shelf with nothing more than your gooey-gummy sticky-hand!

🍜

Conquer the labyrinthine aisles of Shlutz Family Market!

🔫

Eviscerate away dumbass shoppers with mom's shotgun!

👿

Tantrum Mode: So much adrenaline is pumping through your tiny baby body that time seems to slow down, giving you additional opportunity to grab calories!

👀

Photo-realistic graphics!

🚬

Special Celebrity Cameo by future White House Senior Advisor Hunter Biden! He literally begged us to be in this game!

™️

Realistic Shopper Routine: Modeled after in-depth learning algorithm trained on real supermarket data!

🏁

Race to the checkout line with a metric shit-ton of calorie packed yummies, but keep your senses aware of that high-t bitch, Kyle the Manager!

🦞

Shlutz Family Market has discontinued stocking live lobsters due to our inability to maintain "humane standards." Lawsuit pending!

🐖

We have all 20 of your favorite products, packed full of hormones and gluten free!

🥒

Pickles on aisle 4!

🔞

Clearance/expired products on aisle 8!

Controls:
W-Key, A-Key, D-Key:

Move camera between shelves and aisles. Shoot the shoppers who get in your way and grab items from the shelf.

Right Mouse Button:

Fire sticky hand at products on the shelf to increase your calorie counter!

Spacebar:

Engage Tantrum Mode - Speed through the aisles!

Spacebar + Right Mouse Button:

Fire Shotgun and blast away shoppers in Tantrum Mode!

This game was originally built for 7DFPS. Our goal was to build a game that was not a first person shooter but was technically a first person shooter. After brainstorming we settled on an on-rails shooter where you would "shoot" the sticky hand to collect groceries. We decided that we needed to actually shoot some shoppers, but that came later.
We recorded our ideas in our "Jam Bible." We wanted PSX era graphics, 90s style store, Synthwave grocery store music, and metal for tantrum mode. We knew that there would be a boss battle with the manager. We wanted the baby to be rewarded for sugary treats and penalized for healthy stuff like vegetables, but we ultimately cut the idea of good and bad products to save time. Our original idea was to have the baby throw the bad products at the other shoppers, but we decided a gun would be more fun. Other ideas were scaled back but we certainly have a wish list of improvements that we would like to add after the jam has concluded.
Our team had only dipped our toes in 3D modeling and texturing before entering this jam. Learning new workflows for Cinema4D to Mixamo and from PS to Unity texture mapping were among the challenges. Additionally, we encouraged our team to veer outside of their lane of expertise for this project; our audio experts contributed to art, our designers did some audio, etc. We picked up some new skills and are now a more well rounded team.

Little Baby's Big Day At The Store was created by the following members of Strangest.io:
Credits are as follows:
Art, Modeling, Texturing:

Hallowed
Ggutu
Nels
Mmmmm
Fotain

Animations, Cutscenes, Trailer:
Music, Audio, Sequencing:
Design, Direction:
Programming, Technical Direction:

About Strangest.io:
Strangest.io & Fakemoney.loan are independent development collectives creating multiplatform experimental interactions across the globe ❤.
Any support you can provide would be greatly appreciated.
If you love something set it

free.

If it comes back it's yours. If not, it was never meant to be.
| | |
| --- | --- |
| Status | Prototype |
| Platforms | Windows, macOS, Linux |
| Publisher | |
| Release date | Dec 14, 2020 |
| Rating | |
| Authors | Strangest.io, fotain |
| Genre | Shooter, Action |
| Made with | Adobe Photoshop, Adobe After Effects, Unity, Audacity, GIMP |
| Tags | 7dfps, Arcade, Comedy, Fast-Paced, FPS, On-Rails Shooter, Physics, Short, Singleplayer |
| Average session | A few minutes |
| Languages | English |
| Inputs | Keyboard, Mouse |
| Accessibility | Color-blind friendly, Subtitles, High-contrast, Interactive tutorial |
Download
Click download now to get access to the following files:
Little Babys Big Day At The Store [7DFPSJamVersion-LinuxBoot].zip
268 MB
Little Babys Big Day At The Store [7DFPSJamVersion-MacOS].zip
261 MB
Little Babys Big Day At The Store [7DFPSJamVersion-Win32Bit].zip
248 MB
Little Babys Big Day At The Store [7DFPSJamVersion-Win64Bit].zip
251 MB
Comments
Log in with itch.io to leave a comment.
"Updated minimum price to $4.99."
For a gamejam demo..........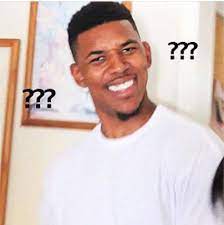 We were A-B testing - everything is free again!
You can try to delete comments all you want. That just confirms to me that you saw it. You know what you did, others noticed what you did and you got caught. If you want to sell games thats fine but there are ways to go about it without trying to be a scumbag like charging for demos or previously free games.
bruh they literally said they were testing something out and then made it free again, dont be rude
They only made it free again after getting called out.
You are the biggest stinky in the entire supermarket you're probably the mother of Manager Josh
You're a bigger baby than the baby in the game.
Hi! I can't open this on my Mac and I have macOS Monterey. Is it not made for this version or is my computer dumb
Gave this a go! It was eventful lol
Late to the party, came here after NIGHTMARE!
No Commentary
The game is absolutely crazy! But a lot of fun. I just missed something that made it more frantic while picking up the products. Maybe items. I do not know. Great game!
This game's crazy, man. So much chaos, so little time. I fucked that store up as much as i could haha. Thanks for the fun! Nice job!
I ran into Shlutz family market for some roach motels, avocados, and 9 volt batteries. Their low prices were no joke! At least the sad cashier wasn't laughing. I didn't realize that the asshole that my slut ex-wife is dating is the manager there. Saved a few bucks but barely escaped with my life. I'd shop there again.