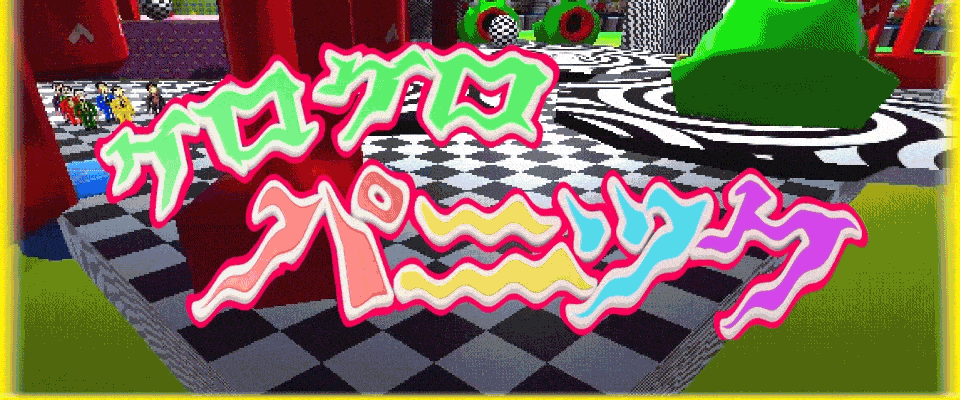 Kero Kero Panic! (ケロケロパニック)
A downloadable Experiment for Windows, macOS, and Linux
Kerokero Panic is the ultimate in physics-based free-running Shenanigan! Enter the world of Japanese frog shows and get ready for the mayhem with your beautiful brothers!

Where in the world did you fail? You have reached a different dimension of convergence between your own world and Kero's world! what will you do? Where are you going You will move forward, the only way to go! I wish you knew the mess you were going to experience, oh you would look back and commit suicide before entering this deadly game for the first time. Run, jump, feel, and bark in Kero's deadly world. Will you and your siblings win prizes to help your dying mother? I hope so!


As you can see, this requires ultimate skill. Get ready to die and disappoint the great frog mascot! You and your six brothers have to go through a terrifying obstacle course. Earn bonuses for each of your siblings who haven't succumbed to a vicious trap! This game is all about the family and the love of you and your brother will meet you to the end. The Grand Prix Zone is open only to those who have a strong instinct and do not betray their friends.
アナウンサーの悲鳴はあなたがどのようにやっているかをあなたに示します。彼が落ち着いていて幸せなら、あなたもそうなるでしょう。彼が悲鳴を上げて動揺した場合、それは絶望の時です。トップへの道を見つけて、あなたの死にかけているお母さんを救うためにお金を獲得するために狂った障害物を避けてください。あなたの最愛の兄弟の健康に気をつけてください!
あなたは一人で叫んで死ぬのですか、それとも一緒に勝利するのですか?
🐸 カエルの領域に入り、究極の賞金でお母さんの命を救おう
💀 クレイジーな障害物コースを通過し、ハザードボールを避けてください
👨 より良いスコアのためにあなたとあなたのハンサムな兄弟を勝利に連れて行ってください
⏱️ このゲームは1週間で完了しました
👂 才能と味わいのある神話的なサウンドマンによる壮大なサウンドトラック
🛢️ 壮大な物理学がクレイジーな美学と融合して最高のゲームを作成
✊ 邪悪なカエルの男の手からクラブの勝利とケロキャノン、厳しい罰の輪、死の崩壊への離脱フロアなどの障害物に挑戦する


このゲームは、無料でゲームを作り、プレーヤーを愛する9人の美しい紳士によって作られました。 Strangest. io は、これまでで最高かつ最も新しいゲームを作るために汗を流し、泣く独立した開発者に大きな力を与えたいと考えている人々のグループです。彼らの不和に加わって、彼らが彼らの素敵なコミュニティに対して持っている力を理解してください。
ケロケロパニックは、超感覚的なメガミックスゲームジャムのために発明されました。このジャムでは、競技者は全身に怖いゲームを作らなければなりません。
彼らは、アナウンサーとしての彼の仕事、そして栄光と楽しみのためにゲームジャムに参加したすべての人に感謝したいと思います。最も奇妙な男性はあなた方全員を愛し、あなた方が祝福されることを望みます

コントロール:

㊙️ ◄▲► 移動するWASD
🎥 Eがカメラを変える
🏃 Shift-移動して実行
🐇 スペースキーを使用してジャンプします
🙌 オブジェクトを取得するためのLMBとRMB
追加の考慮事項:


Strangest.io & Fakemoney.loan are independent development collectives creating multiplatform experimental interactions across the globe ❤.
Any support you can provide would be greatly appreciated.
If you love something set it

free.

If it comes back it's yours. If not, it was never meant to be.
| | |
| --- | --- |
| Status | Released |
| Platforms | Windows, macOS, Linux |
| Publisher | |
| Release date | Aug 30, 2021 |
| Rating | |
| Authors | Strangest.io, impish, nels1, wavplay0, >:), Deadhanded |
| Genre | Platformer, Action |
| Made with | 3ds Max, Blender, Adobe Photoshop, Adobe After Effects, Unity |
| Tags | 3D, Atmospheric, Comedy, Funny, gameshow, japanese, Physics, ragdoll, Retro |
| Average session | About a half-hour |
| Languages | English, Japanese |
| Inputs | Keyboard |
| Accessibility | Color-blind friendly, Subtitles, High-contrast, Textless |
Download
Click download now to get access to the following files:
KeroKeroPanic_Linux-NoSupport.zip
173 MB
KeroKeroPanic_Mac-NoSupport.zip
167 MB
KeroKeroPanic_WindowsX32.zip
155 MB
KeroKeroPanic_WindowsX64.zip
158 MB